Who Are We.......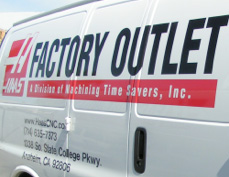 HISTORY
Founded in 1988
WHAT WE DO
Providing Sales, Service and Applications Support for the metal working industry in Southern California.
OUR MISSION
"Dedicated to building lasting relationships"
The HFO Service Difference


Representing Haas Automation, Inc., the largest CNC machine tool builder in the Western World. Haas Automation manufactures a full line of CNC vertical and horizontal machining centers, CNC lathes, rotary tables and 5C indexers. Haas machine tools and rotary products are built to the exacting specifications of Gene Haas to deliver higher accuracy, repeatability and durability than any other machine tool on the market.
Haas Factory Outlet - Anaheim is a full-service distributor for Haas Automation, offering Sales, Service, Training and Applications Support.
Local service provided through our HFO means no waiting for service technicians to fly out at your expense, often taking days or weeks to arrive.
Localized attention to your specific needs: More than $2.5 million in local parts inventory (including fully-stocked service vehicles), coupled with Haas part-exchange policy, means same-day replacement on most parts.
In those rare instances when a part is not locally available, Haas provides better than 99% same-day factory shipping of service parts orders.
Better than 90% "First Call Completion" to get your machine up and running. This is accomplished with more than 10 locally dispatched and fully stocked service vans, local parts inventories and same-day parts exchange.
Factory-certified technicians are dedicated exclusively to servicing Haas equipment. Every service technician is re-certified annually and required to participate in ongoing training via our online training courses.
Reasonably priced replacement parts. For example, a replacement monitor for a competitor's machine can cost more than $3,000; it costs only about $1,200 to replace a Haas LCD monitor.